Advertisement
Four of Australia's best chefs take the supermarket chook challenge
Top chefs bedazzle a bachelor's handbag, creating a recipe using just five ingredients plus pantry staples.
When "bachelor's handbag" was named Macquarie Dictionary's People's Choice Word of the Year for 2022, the supermarket roast chicken solidified its place in popular culture.
The cooked chook, beckoning from its glowing hotbox display, became more than an accessible source of protein and an inexpensive meal solution. It moved into the sphere of cultural icon, alongside Tim Tam slams and arguments about the correct amount of Vegemite to spread on toast.
According to Woolworths' CCO (chief chook officer) Matthew Harbich, sales of hot roast chicken have continually trended upwards since the first ones hit the shelves in 1960.
"They continue to grow in popularity, with more than 20 million sold in our stores every year," he says.
At Coles, hot roast chickens are among the top three most purchased products so far this year, and in 2022 they were the second highest-selling product behind bananas.
"Hot roast chooks have amassed a very loyal following from Australians looking for a staple meal option that is convenient, great value and healthy," says Martin Smithson, Coles' general manager of meat, deli and seafood.
In their book Betoota-Isms, the wags at satirical news site The Betoota Advocate proclaim that chooks are "often purchased with a six-pack of white bread rolls, Homebrand coleslaw and a longneck".
Now, there's nothing wrong with a roast chicken roll. But we reckon the handbag can be dressed up as well as dressed down, making it less of a cheap accessory to carbs and cabbage, and more of a hero ingredient in a cheffy creation.
We asked four of Australia's best chefs to turn their minds to this culinary conundrum. But we didn't let them get too fancy. With many households looking for canny cost savings to help the weekly spend stretch further, we restricted our creative cooks to five extra ingredients plus access to pantry staples, and a little leeway for optional garnishes. The bachelor's handbag is fine just as it is, but herewith we present the bedazzled roast chook.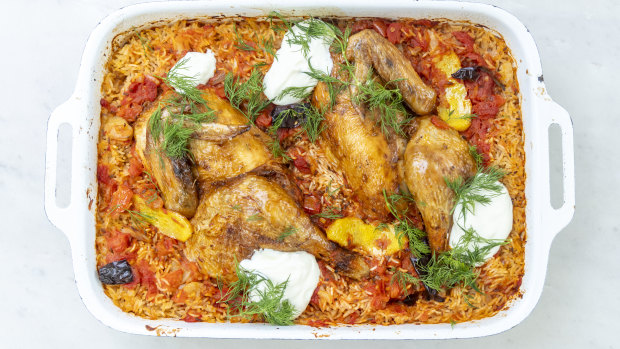 Roast chicken with tomato and cumin butter-baked rice
This recipe is based on a favourite baked chicken rice from my latest book, Cook. It's almost as good when you take the supermarket chook shortcut. The lead flavours are tomato, cumin and chilli. The delicately perfumed rice is buttery and stained red from the tomato, with a crunchy crust. Dolloped with tart yoghurt, it makes a perfect midweek meal and is wonderful as part of a more involved spread involving braised winter greens. Karen Martini, Hero, Melbourne
Easy | 70 minutes
INGREDIENTS
100g butter
50ml olive oil
1 onion, finely diced
4 garlic cloves, finely sliced
400g (2 cups) basmati rice
2½ tsp cumin seeds
salt and pepper, to taste
400g can diced tomatoes, or 6 ripe tomatoes, diced
800ml chicken stock (or 1 stock cube and hot water)
½ lemon, rind removed in strips, juiced
1 roast chicken, cut in 4 pieces
2 dried chillies, crushed
To serve, optional
200g plain yoghurt
5 dill or coriander sprigs, picked
METHOD
Preheat the oven to 200C fan-forced (220C conventional). In a large pan, heat the butter and oil over medium heat, then add onion and garlic and cook until they start to brown, about 8 minutes.
Add the rice and cumin seeds, season with salt and pepper and cook for 3 minutes to toast the rice. Add the tomato and stock, and stir to coat the rice. Bring to a simmer then turn off the heat.
Tip the rice into an enamel baking tray, peel zest from the lemon in strips and lay them over the rice. Place the cooked chicken pieces on top and crumble over the chilli. Cover with baking paper, then foil.
Transfer to the oven and bake for 25 minutes, then uncover and bake for a further 5 minutes, until golden.
Once cooked, place the dish over a high heat on the stovetop for about 3 minutes to crust the rice base. Squeeze over the lemon juice. Dollop on the yoghurt, if using, and scatter with herbs.
Serves 4
Ayam masak merah
This is an easy way to turn a simple roast chicken into something hearty and spicy. Ayam masak merah is a typical Malay dish: the chicken is usually deep-fried but the recipe works really well with roast chicken, too. If you ordered a bucket of KFC and had some left over, this would be a great way to use it up. Junda Khoo, Ho Jiak, Sydney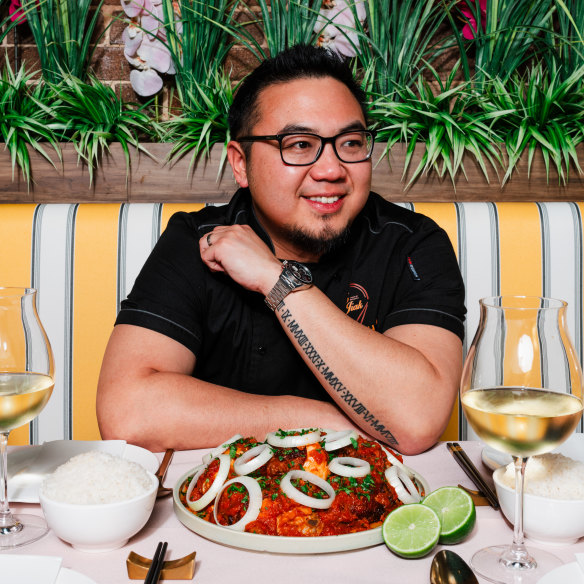 Easy | 45 minutes
INGREDIENTS
5 garlic cloves
3cm piece ginger
1 large red onion
5 long red chillies
300ml vegetable oil
2 tomatoes, finely diced
5 tbsp tomato sauce (ketchup)
1 tbsp salt
2 tbsp sugar
½ tbsp MSG, optional
1 roast chicken, stuffing removed, chopped into 8 pieces
To serve
½ red onion, sliced into rings
1 handful coriander, finely chopped, optional
1 lime wedge, optional
METHOD
Blend the garlic, ginger, red onion and chillies in a food processor or with a stick blender until it turns into a rempah (spice paste).
Heat the oil in a saucepan over high heat until it starts to smoke, add the rempah and stir well for 2 minutes.
Add the tomatoes, sauce, salt, sugar and MSG (if using) and stir well. When it comes to a boil, lower the heat to medium and reduce the sauce by half, stirring occasionally. This will take roughly 25-30 minutes.
Add the chopped chicken and stir gently to coat it evenly with the sauce. Turn off the heat and leave for 5 minutes with the lid on.
Transfer the chicken to a serving bowl and garnish with raw onion rings and finely chopped coriander (if using), and a wedge of lime alongside.
Serves 2-4
Roast chicken with herbed rice
We got back from soccer training a couple of nights ago and there was no dinner planned, so I looked in the fridge and made this. It's not groundbreaking, but the flavours definitely work. You can't go wrong with chicken, rice, tomatoes and herbs, and it's so easy to throw together. Ben Greeno, executive chef at Merivale
Easy | 10 minutes
INGREDIENTS
handful of grapes, halved
handful of cherry tomatoes, halved
soft herbs (coriander, parsley, chives, dill – whatever you feel like), roughly chopped
1 zucchini
zest and juice of 1 lemon
2 tbsp olive oil
salt and pepper
200g pre-cooked rice
1 roast chicken, chopped into 8-12 pieces
yoghurt, optional
METHOD
Place the grapes, tomatoes and herbs in a large mixing bowl. Cut the zucchini into thin rounds and add to the bowl.
Add the lemon zest and juice to the bowl, drizzle on the olive oil and season with salt and pepper.
Heat the rice and add to bowl. Mix gently to combine.
Transfer the herbed rice to a serving dish, place the chicken on top, sprinkle with any leftover herbs and serve with a bowl of yoghurt on the side, if you like.
Serves 2-4
Roast chicken, leek and penne pasta
You could spend a long time roasting a chicken, making a stock, then bringing it all together into a luxurious pasta dish. Or you could take all the shortcuts and make this quick penne with a store-bought chook. Both versions are great! One thing you don't want to skimp on, though, is the time you take sauteeing the leeks: you want them soft and sweet to make this dish as comforting as possible. Jerry Mai, Pho Nom, Melbourne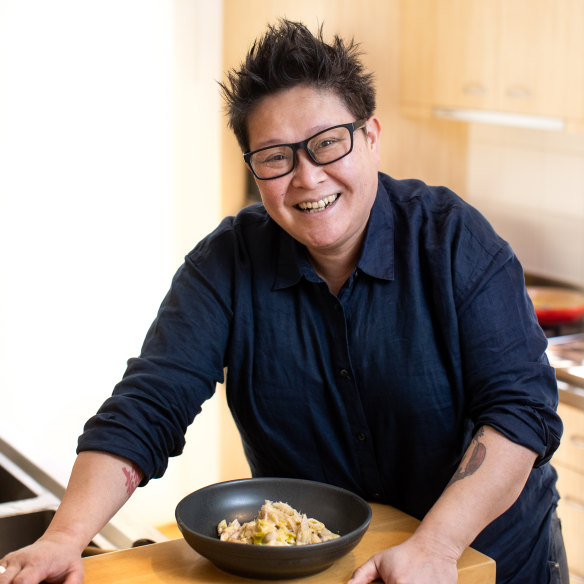 Easy | 25 minutes
INGREDIENTS
400g penne
vegetable oil
1 large leek, washed and cut into 1cm slices
4 sprigs thyme
400ml chicken stock (I use Knorr chicken powder and mix with hot water)
200ml thickened cream
400g roast chicken meat, shredded
grated parmesan cheese to serve
METHOD
Fill a medium pot with water, cover with a lid and bring to a boil over high heat. Once the water is boiling, add the penne and cook according to the packet instructions. Drain and set aside.
Place a large pan over high heat and add a splash of vegetable oil. Add leek to the pan and cook until the leek softens.
Add the thyme and chicken stock to the pan and simmer until the leeks are very soft and the stock has reduced by half, about 5 minutes.
Pour in the cream and simmer for another 5 minutes, then stir in the shredded chicken.
Add the pasta to the pot, mixing to coat with the sauce. Serve in pasta bowls with a sprinkle of grated parmesan.
Serves 4
Australia's chicken love-affair
Chicken is by far the most popular meat in Australia but that wasn't always the case. In 1950, chicken was the country's least-consumed meat: the average person ate just 4.7 kilograms of chook a year, often at a precious Sunday roast.
In 1976, chicken overtook pork consumption (13.6 kg per person per year, compared to 11.7 kg of pork). By 1989, chicken consumption outpaced lamb (23 kg to 21.7 kg). And by 2009, it officially ruled the roost, climbing to 35.6 kg, having accelerated past beef consumption of 32.7 kg.
Now, the average Australian eats 49 kg of chicken meat a year, more than 10 times the amount we consumed 70 years ago.