Advertisement
Hakata Gensuke ramen joins Sydney's emerging Little Tokyo at Regent Place
When Hakata Gensuke opens in Sydney on Friday, August 4, most of the dishes on its brief menu will be a variation of Japanese tonkotsu ramen. The highly specialised food venue has deliberately landed in a pocket of the CBD gaining traction as the most Japanese corner of Sydney.
"Around 70 per cent of tenants at Regent Place (at Town Hall on the corner of George and Bathurst streets) are Japanese, it feels like a real hub," says Allan Lam, who brought Hakata Gensuke to Sydney.
"We had many offers for sites, but this is absolutely the right place for it," Lam says.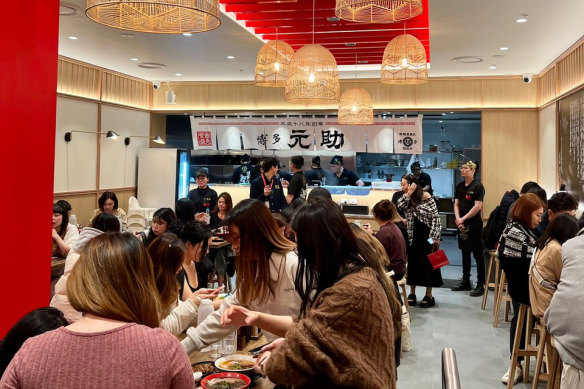 When it fills at night, Regent Place has the busy energy of Shinjuku, Tokyo. The long lines for the Japanese cheesecake at Uncle Tetsu's would impress even a Taylor Swift fan. Expats delve into the shopping centre's bowels to stock up on Japanese snacks at Mido Mart and pick up the chopsticks at Edomae Sushi Yokocho.
Advertisement
Hakata Gensuke has taken up residence in the former home of Chefs Gallery, on the Bathurst Street edge of the centre.
Where many ramen places offer an array of protein bases, at Hakata Gensuke it's pork only. Its tonkotsu, the broth made from pork bones, is cooked for 12 to 16 hours. "I don't think there are any other places doing it for that long, some use an instant version," says Lam.
Hakata Gensuke ramen still leans on the methods and recipes of its founder, Japanese chef Kousuke Yoshimura, who won the prestigious Ultimate Ramen Championship back-to-back in 2011 and 2012. His Hakata Ikkousha restaurants spread from Japan to Los Angeles and Dubai, opening in Melbourne in 2014 under the Hakata Gensuke moniker, where it is a fixture on the city's best ramen lists.
"Mr Yoshimura is serious about everything being done properly, he'll be here (in Sydney) over the weekend, overseeing the quality," says Lam.
Advertisement
And there are more openings on the way. A Japanese steakhouse will add to the action when it opens next door to Hakata Gensuke later this month.
Earlier this year, Derek Puah, the restaurateur behind Devon Cafe and Dopa, opened a French bistro with a Japanese twist, Bistro Nido, at Regent Place.
"If you come here on a Friday or Saturday night, it really has that Tokyo vibe," says Puah.
Hakata Gensuke, open 11am-9pm daily, shop 12a/105 Bathurst Street
Restaurant reviews, news and the hottest openings served to your inbox.
Sign up

Scott Bolles writes the weekly Short Black column in Good Food.
Advertisement
Advertisement