ASX extends losses after Wall Street's worst day since April
Updated
first published at
The Australian sharemarket extended its losses on Thursday, weighed down by the mining and banking index heavyweights and IT stocks, after Wall Street suffered its biggest fall since April.
The S&P/ASX 200 was down 36.6 points, or 0.5 per cent, to 7318.0 as of 12.15pm AEST, falling for a second day after Wednesday's 1.3 per cent decline. Information technology companies (down 1.8 per cent) fell sharply as Xero lost 2.9 per cent and NEXTDC dropped 1.5 per cent.
Meanwhile, financials (down 0.4 per cent) saw all big four banks trading in the red. CBA lost 0.6 per cent, NAB shed 1 per cent, Westpac dropped 0.5 per cent and ANZ slipped 0.6 per cent. Mining giant BHP lost 0.7 per cent, while Rio Tinto fell 1.2 per cent and Fortescue Metals Group dropped 0.6 per cent after the iron ore price slipped 2.2 per cent.
Consumer staples (up 0.3 per cent) and utilities (up 0.1 per cent) were the only sectors in the green, as supermarket giants Coles (up 0.4 per cent) and Woolworths (up 0.5 per cent) both gained along with Origin Energy (up 0.6 per cent) and AGL (up 0.7 per cent).
Insurance groups bucked the trend among the financial stocks. with IAG gaining 1.8 per cent and QBE adding 1.7 per cent.
The Australian dollar retreated again, losing 1 per cent overnight. It was fetching 65.39 US cents at 12.15pm AEST.
The losses on the Australian market came after Wall Street tumbled to its worst drop in months as its torrid rally that critics called overdone lost more momentum.
The S&P 500 sank 1.4 per cent for its sharpest tumble since April. It was the second-straight loss for the index after it hit a 16-month high last week. The Dow Jones dropped 1 per cent, while the Nasdaq composite fell 2.2 per cent.
Prices were mixed in the bond market after Fitch Ratings cut the credit rating of the US government. The repeated standoffs in Congress about whether to allow a default on the US debt were just some of the reasons for Fitch's decision. The downgrade strikes at the core of the global financial system because US Treasurys are considered some of the safest possible investments.
While the downgrade highlights how much debt the US government has and the big challenges it faces in how to pay for Social Security, Medicare and other expenses, none of that is news for investors.
"Fitch's downgrade is much ado about nothing," said Brian Jacobsen, chief economist at Annex Wealth Management.
"Yes, it's good to call out the fiscal situation, but when a country only issues debt in its own currency, the credit rating is irrelevant. Every investment fund I've looked at specifies that US Treasury securities are allowed investments, regardless of what a credit rating agency might think."
The big issues for Wall Street remain whether the economy can avoid a long-predicted recession, as hoped, and what's happening with corporate profits. And reports on both those questions came in mixed overnight.
That offered fodder for critics who say investors were too quick to buy the belief that a soft landing is surely ahead for the economy. They've been saying Wall Street rallied too much, too quickly this year. Analysts said some of Wednesday's selling could be investors locking in profits made during the S&P 500's 19.5 per cent run for the year through July.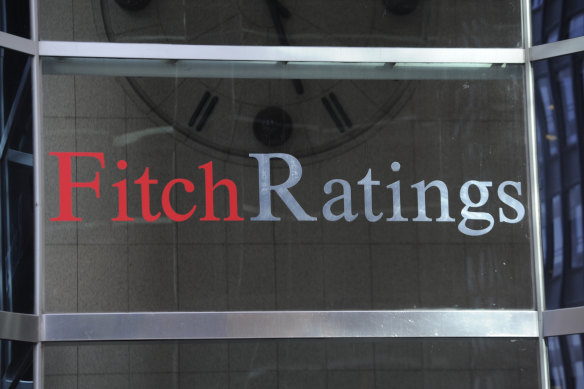 One report suggested hiring in the private sector remains much stronger than economists expected, even if it slowed from the prior month.
A job market that remains solid could keep a lid on worries about a possible recession. But investors also fear a too-strong reading, which could persuade the Federal Reserve too much upward pressure still exists on inflation.
The Fed has already yanked its federal funds rate higher at tremendous speed in hopes of undercutting inflation. High rates do that by slowing the economy bluntly, but that risks causing a recession and hurts prices of investments along the way.
Inflation has been cooling since last summer's peak, and the rising hope on Wall Street had been that the Fed won't hike rates anymore and could even begin cutting them next year.
Wednesday's stronger-than-expected jobs report from ADP could be a signal of what Friday's more comprehensive report from the US government will say. Fed Chair Jerome Powell has highlighted Friday's numbers as a big influence on the central bank's next move in September.
Higher rates tend to hurt technology and other high-growth stocks in particular, and Big Tech stocks helped drag the US market lower. Microsoft, Nvidia and Amazon all fell more than 2.5 per cent and were some of the heaviest weights on the S&P 500.
Most companies this reporting season, though, have been topping profit expectations. That's usually the case, and expectations were quite low coming into this reporting season. Analysts were forecasting a third straight quarter of weaker earnings per share for S&P 500 companies.
In the bond market, the yield on the 10-year US Treasury rose to 4.07 per cent from 4.04 per cent late Tuesday. It helps set rates for mortgages and other important loans. The two-year US Treasury yield slipped to 4.89 per cent from 4.91 per cent as its price rose.
With AP
The Market Recap newsletter is a wrap of the day's trading. Get it each weekday afternoon.