Liberal senator Linda Reynolds has made good on her threat to sue Brittany Higgins for defamation for a social media post accusing her of harassment, issuing a writ against her former staffer in the West Australian Supreme Court.
According to the writ lodged on Monday, Reynolds is suing Higgins for aggravated damages over an Instagram story on July 4 and a Twitter post on July 20, both of which she claimed were defamatory of her.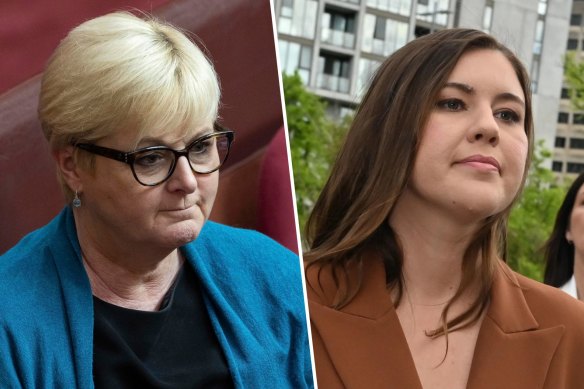 The former defence minister is also claiming the posts constituted a breach of a deed of settlement and release the pair signed back in March 2021, which contained a non-disparagement clause.
Reynolds is demanding two injunctions preventing Higgins from publishing defamatory material about her and preventing her from further breaches of the deed.
The news comes just weeks after Higgins took to social media accusing her former boss of harassment and confirming she had received a legal letter from Reynolds' lawyers.
Reynolds' lawyer Martin Bennett confirmed later that day that his firm had sent Higgins a concerns notice 24 hours earlier.
In 2021, Higgins alleged she had been raped in Reynolds' parliamentary office by her colleague Bruce Lehrmann.
Lehrmann has repeatedly denied the allegation and a criminal trial was aborted late last year due to juror misconduct, with a retrial ruled out over fears about its potential impact on Higgins' mental health.
Reynolds is also locked in a defamation battle with Higgins' partner, David Sharaz, who she has accused of "trolling" her in tweets she claims were false and defamatory of her and caused her, her family and staff stress and anguish.
The lawsuit was later amended to include a further three social media posts from other platforms.
Reynolds is demanding the former press gallery journalist pay damages, as well as aggravated damages, over five social media posts. She also seeks an injunction preventing the material from surfacing again.
Last month Reynolds claimed she had been targeted with "unwarranted criticism and abuse".
"Despite [Higgins'] repeated defamation of my character, until now I have not taken any action against her personally – even though I considered her words to breach our previous settlement agreement," Reynolds said in a statement at the time.
"Yesterday, Ms Higgins made yet another defamatory post about me. I have had enough. I will not tolerate being defamed by her or anybody."
Higgins' lawyer has been contacted for comment.
Jesinta Burton
– is a journalist with WAtoday, specialising in civil courts, business and urban development.
Connect via Twitter or email.